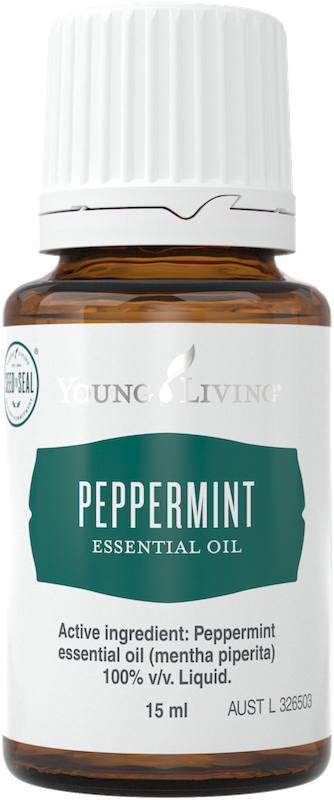 Peppermint Wellness essential oil - 15 ml [Retail]
SKU 33536-R
Product Details
Young Living Peppermint essential oil has a cool, minty, herbal scent. Young Living Peppermint Wellness essential oil is listed as a complementary medicine with the Australian TGA (AUST L 326503)
THERAPEUTIC CLAIMS
Traditionally used in Aromatherapy:
As an antipyretic to reduce body temperature;
As an analgesic to relieve pain;
To relieve toothaches;
To decrease headache symptoms;
To decrease the symptoms and duration of mild migraines;
To decrease mild rheumatic aches and pains;
As an antispasmodic;
To reduce occurrence of excess intestinal wind;
To reduce colic (wind/gas pain);
To relieve flatulence;
To relieve loss of appetite;
To maintain a healthy appetite;
To help reduce the symptoms and occurrence of indigestion;
To help increase bile flow;
To relieve nausea;
To reduce menstruation pain;
As a cough suppressant; and
To relieve cough.
DIRECTIONS FOR USE
Topical: Dilute 5 drops in 10 ml V-6TM Vegetable Oil Complex or olive oil. Test on small area of skin on the underside of arm and apply to desired area as needed.
Inhalation: Apply 1-6 drops of undiluted essential oil to a tissue and inhale occasionally. Use up to 3 times daily.
Aromatic: Diffuse up to 10 minutes 3 times daily.
Active ingredients: Peppermint oil
Size: 15ml
Always read the label. Follow the directions for use. Keep out of reach of children. Not to be taken. If symptoms persist talk to your health professional. Statements apply for Australia only.
Wholesale Discount?
You can get this product at a 24% wholesale discount. See the wholesale price of peppermint essential oil here.
To access the wholesale discount, you need to add a Starter Kit to your first order. A Starter Kit gives you access to wholesale prices for all Young Living products for the next 12 months.
Click here to view Starter Kits.
What's Required for a Wholesale Account?
No minimum order
First order and future orders at wholesale prices
Products can be used for personal use
No monthly orders required
No re-selling requirements
To maintain your wholesale account - order at least once each 12 months for 50 PV (50 points) of products, that's about $80 of products, to keep your wholesale account open
If you don't order once a year, the wholesale account will be closed.
Save this product for later